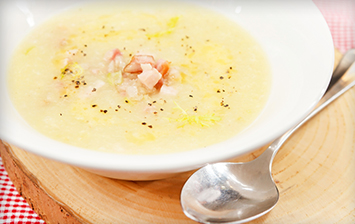 Ingredients
6 tbsp. Butter
1 Large Leek, thinly sliced
1 lt. Hot Chicken Stock
3 Shallots, finely chopped
3 Garlic cloves, thinly sliced
Salt & Pepper to taste
1 whole Celery, thinly sliced
3 Slices dry cured Streaky bacon, finely diced
1/2 cup crème fraîche or sour cream
Lemon olive oil, for drizzling

Method
Firstly in your Russell Hobbs Multi Cooker select the steaming option and when hot add the diced bacon and cook until crispy.
Take out and set aside on some kitchen paper.
Add the butter to the bacon fat and add the leeks, onions, garlic, celery and a generous pinch of salt and pepper and cook until the onions soften, stirring occasionally.
Add the stock and select the soup programme for 30 minutes.
Using your Russell Hobbs hand blender, blitz the soup until smooth, add the crème fraîche and check the seasoning. Serve with a sprinkle of bacon bits and a drizzle of lemon olive oil.