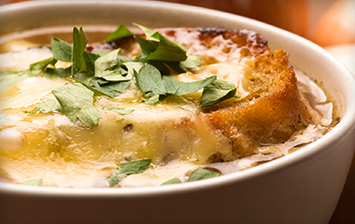 Ingredients
500 g White onions, finely sliced
30g Butter
30g Flour
1.5 ltr. Chicken Stock
2 tbsp. Port or Brandy*
Salt and Pepper to taste
4 slices of baguette – slightly stale
50g Cheese – grated
*Optional

Method
Firstly turn on your Russell Hobbs Multi cooker and choose the Steam programme.
Place the butter in the bowl and allow to melt, add the onions and cook until soft – don't let the butter brown.
Then add the flour and stir well and allow the flour to cook for a few minutes then pour in the stock add the port or brandy, salt and pepper.
Select the soup option on the multi cooker and select 20 minutes. In the meantime take the baguette slices and toast lightly.
Add the cheese to each slice and grill for a couple of minutes.
When the soup is ready check the flavour and then place a crouton in each bowl and pour the soup over .